The latest Hog Roast Bramhope event was a very special 21st birthday party. The client, Nikita, had planned a wonderful garden party, complete with Hog Roast catering and an inflatable pub. The inflatable pub was a cute addition and helped to create a fun, informal, relaxed environment for the special celebration.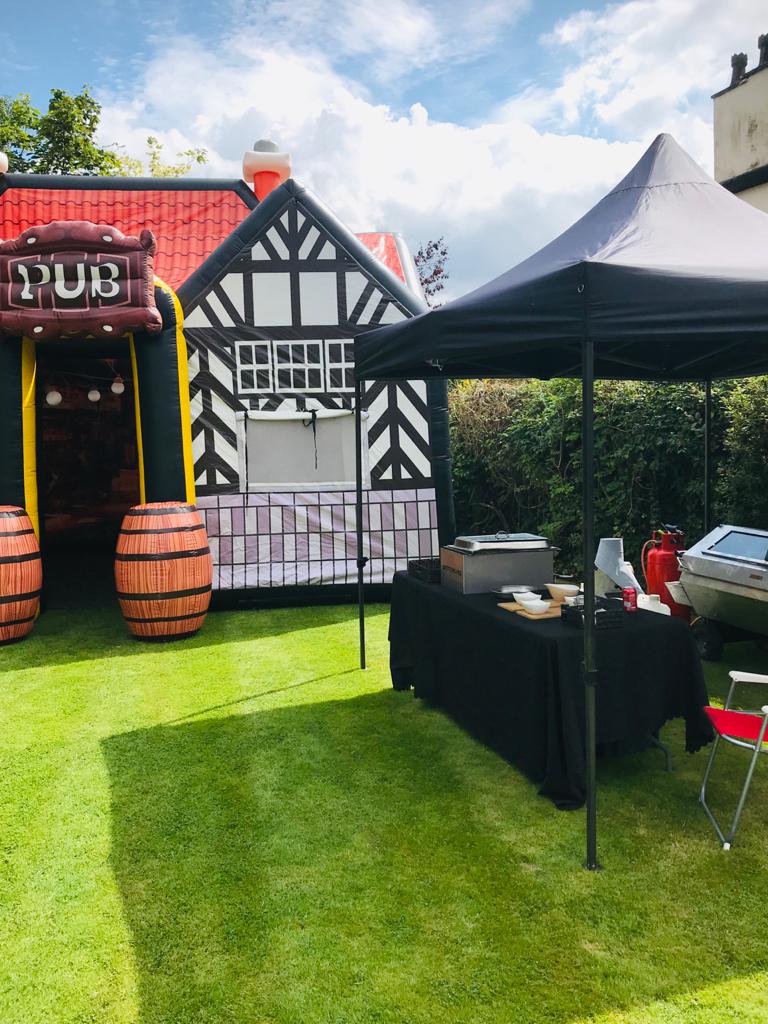 There was a guest list of 30 people for this party and Nikita worked with the Hog Roast Bramhope team to concoct a menu that would appeal to all. Catering Manager Jon from the team would work at the venue in the hours leading up to the 7:30pm serving time, so that all the dishes could be made and eaten freshly on the same day. Not only did the catering package Nikita paid for cover the food, equipment and Chef, but also it included high quality disposable crockery and cutlery for the guests to use. Also, as part of the usual Hog Roast Bramhope catering packages, the hard working Catering Manager Jon would take all the rubbish away from the event at the end of the catering, leaving Nikita and her guests able to enjoy the party.
The buffet menu was a truly tasty feast for the eyes as well as a treat for the taste buds. There was a Classic spit roast pig with crispy crackling, stuffing and tangy apple sauce, as well as a mountain of soft gluten free rolls. That wasn't all though. There was also delicious grilled vegetable and halloumi skewers and succulent plains grilled skewers that were a treat for the taste buds. Fortunately the weather held fair and the evening was a fun filled event that everyone enjoyed, the guests were able to mill between the cute inflatable pub and the delicious buffet table. It really was a party where everyone was catered for!
The guests and clients absolutely loved the buffet. They enjoyed the tasty treats and were able to continue with their partying while Jon from Hog Roast Bramhope quietly tidied away and left the home garden venue.