With restrictions on outdoor public events gradually being lifted, the Hog Roast Denton team couldn't wait to get out there and start doing what we do best again – namely treating people to the best slow roasted pork around and great customer service! When we were asked to cater for an outdoor gig recently, we jumped at the chance. A local band, whose gig was originally planned to take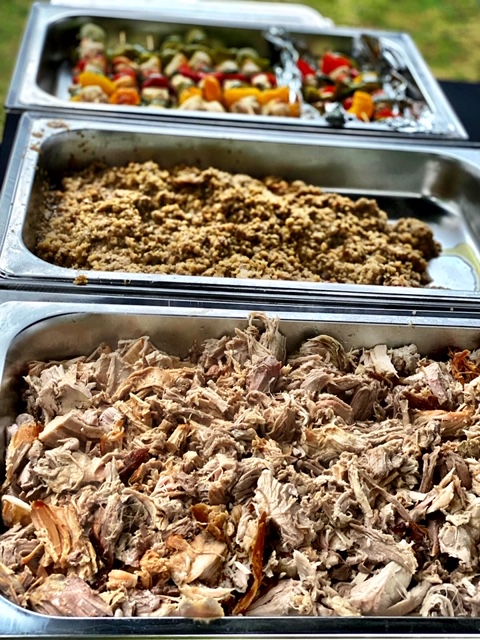 place in an indoor venue several months earlier, decided they couldn't wait to get back in action either and decided to do it outdoors instead with a limited audience so social distancing could be adhered to. The event organisers wanted to provide some high-quality mobile catering, but they were understandably concerned about keeping the spectators safe and maintaining social distancing. We assured our clients that we had been very stringent in the measures that we have put in place and talked them through our hygiene procedures and our of use of PPE for event catering. We also told them that as an added bonus, our versatile catering equipment and multi-skilled team enables us to cater for events with a minimal amount of staff on-site. Feeling thoroughly reassured, the event organisers wasted no time in hiring us to provide the food for the gig!
Two highly experienced members of the Hog Roast Denton team spent several hours on-site slowly roasting our ethically reared pork until it was falling off the bone and ready to be devoured! Our hearty hog roast sandwiches topped with crunchy crackling and our homemade apple sauce, were very popular with the attendees and we provided our usual high level of friendly and efficient service, whilst also ensuring our diners kept their distance from each other whilst enjoying their food. The band looked like they were having just as much fun as us being back in the saddle and we're glad that the Hog Roast Denton team were able to provide a safe and enjoyable outdoor dining experience for everyone who attended. It may not have been as large an outdoor event as we are used to catering for, but there was still a brilliant atmosphere as everyone was treated to some great live music, and of course, some great grub!