Recently, the Hog Roast Leeds team were hired by a corporate client, Sweco who were hosting their event at their base at Grove House in Leeds. The event was organised by Tom from the company and the day ran smoothly as he had planned. The food was served a buffet spread to encourage a casual atmosphere. The weather was fantastic for the service and the team cooked and served their food under a classic marquee.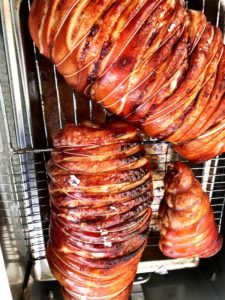 The client requested for the Hog Roast Leeds team to cook Menu Three for their company's guests, however, they chose to have pork joints instead of a whole roasted hog. Despite not cooking the whole pig, the meat was still really tender and delicious. The meat was served with a variety of sauces and a selection of three salads. Stuffing, apple sauce and crackling were also served on the buffet table alongside seasoned new potatoes. The keep the buffet casual, the team also served bread rolls and wraps with the fantastic meat. As a vegetarian option, the Hog Roast Leeds team served grilled and vegetable halloumi skewers with pitta breads and a tzatziki dip. The food was also served on wooden crockery to ensure that there was an element of luxury to the casual gathering.
The Hog Roast Leeds team's Head Chef, Andy, did a great job of leading his team through the service. The food was served outdoors in heated metal trays to keep the food warm and the meats tender. The food was served between 12pm and 12:30pm so the team had to be very efficient when serving the food to the guests. The buffet was for 30 guests, all of which appeared to really enjoy the food as many returned for second servings. Andy was really proud of his team and was pleased with how professional the buffet looked when it had been laid out. The team was really friendly and helped to create a fantastic buzzing atmosphere for the event. The client, Tom, was also very pleased with the service and would definitely recommend the hard working team to others.