Many people don't realise just how versatile a Hog Roast Catterton can be. From catering for any number of people for any kind of event whether it's a formal occasion or corporate event or a more informal gathering of friends, our style of food is suited to it all. Additionally, our menus encompass so much more than just our signature traditional roasts- although they are delicious!
This week Hog Roast Catterton were busy catering for a wedding. The reception was being held in the garden of a private home which gave it an intimate feel and we were instructed to provide food for one hundred and forty people with a serve time of five thirty.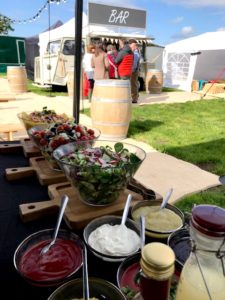 For this event the couple had asked our catering manager Jon to prepare our Southern Slow Roast Menu. This menu encompasses your choice of three meats all roasted low and slow for multiple hours to ensure nothing but the most succulent of meats and flavours. Each meat is marinated before roasting in our secret recipe rubs so they really are packed full of flavour!
The couple had chosen our BBQ Pork Butt, Texan 24 Hour Beef Brisket and Cajun Spiced Whole Roast Chickens for the meats which we had to admit was a killer combo that was sure to impress. For the accompaniments they had chosen our Memphis Style Crunchy  Coleslaw, green salad, Greek salad and whole baked potatoes. The vegetarians had not been forgotten about as Jon had prepared some delicious Grilled Vegetable and Haloumi Skewers, Served with Pitta Breads and a Tzatziki Dip.
With the ceremony complete, the guests and newly-weds arrived at the venue and were welcomed with the mouth-watering aroma of our Hog Roast Catterton slowly cooking away. By the time we had finished serving we made sure we started to discretely pack away in order to be able to leave the guests and happy couple to enjoy their night!