If you have got an event on the horizon that you want to make feel extra special, then why not get in touch with our team at Hog Roast Bielby? Our outstanding catering crews take care of everything – and we really do mean everything! By booking with us, you won't have to worry about cooking, serving or even cleaning. Yes, you really did read that last part right! What's more, we even supply the cutlery and crockery for your occasion, and with us on hand for the entirety of your event, you can rest assured that everything will turn out just as you had hoped – if not, better!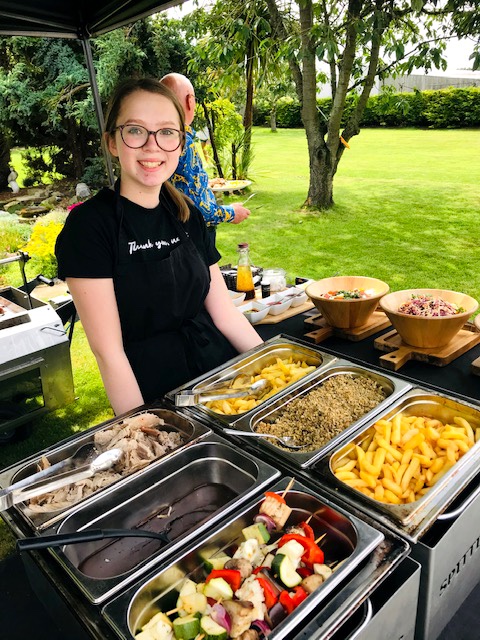 Marie-Anne and her family were one of the most recent to get a taste of our exquisite creations last weekend. The afternoon was in celebration of Marie-Anne's husband, Graham's birthday, and the client had asked us to whip up an extraordinary feast for 15 to be served at their home in the countryside.
With a perfect patio featuring plenty of outdoor seating and luscious green lawns from which sprouted lofty trees, Marie-Anne's home was the ideal destination for the intimate birthday soiree. The occasion was made even more special by the alfresco-style menu, that was served by catering manager, Jon and his daughter Lilly-Belle.
The feast was largely based on our private party menu 3, only this time, instead of a full-sized pig, Hog Roast Bielby had decided to serve a juicy suckling pig as this was far better suited to the smaller scale affair that Marie-Anne had organised. To complement the show-stopping hog roast centrepiece which offered plenty of crispy crackling and fork-tender pulled pork to go around, Hog Roast Bielby had also prepared golden fries, a trio of freshly tossed salads, brioche rolls and a selection of sauces.
We've since heard back from Marie-Anne who had nothing but kind words to share about the service Jon and Lilly-Belle provided! It seems the whole family couldn't get enough of the delicious food Hog Roast Bielby provided, and already the client is thinking about planning her next event with us!