For a truly delicious treat that everyone can enjoy, Hog Roast Halifax will certainly impress all your guests at the next party or event that you're organising. Our sumptuous hog roasts are deservedly famous, whether served as piles of pigs in buns, full of moist meat, crispy crackling and homemade sage and onion stuffing and apple sauce, or as part of a meal with seasonal veg, potatoes and trimmings. Nevertheless, we've always known that our customers often need or want alternatives served, either to cater for special diets or owing to personal tastes, or additional dishes so that multiple courses can be served, so we've always made sure to have all kinds available.
Our extensive menus may well surprise you but Hog Roast Halifax is all about satisfying all of our customers and their guests and not just the majority. If you'd prefer us to cook a barbecue of sausages, ribs and burgers, or a spit-roast of poultry, beef or lamb, we can easily do that instead, or we can rustle up a feast with one of our standalone menus, like our Southern Slow Roast or Loaded Fries. Diets such as vegetarian, vegan and gluten-free are no problem, and neither are others, as long as we have notice in advance so that we can help you to choose a tasty alternative to serve fresh on the day. Plus if you're thinking of having canapés, starters, sides or desserts, we have a wide array to choose from.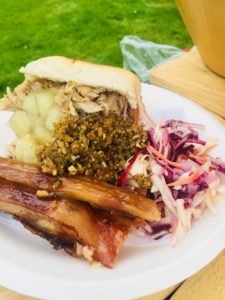 When Hog Roast Halifax catered a party at the weekend, it was for a small, informal get-together of family members, to celebrate a milestone birthday. This bubble all wanted to devour our famous pigs in buns at home, having enjoyed them before at a wedding a couple of years ago, as well as some hot and cold sides, before feasting on the 80-year-old birthday girl's special cake. With the main event of our version of mouthwatering hog roast rolls, sweet potato wedges (which we make a little spicy), homemade coleslaw and mac and cheese, this occasion went with a bang, as did the fireworks the family set off as they sang happy birthday to Margaret on her special day.