Sheffield's favourite used car dealership, Motorpoint, in Tinsley was the recent destination of Hog Roast Rotherham's catering crew, who last week made an appearance at the local showroom after being hired to treat the staff there to one of our slap-up menus!
Edem, who had been placed in charge of organising the highly-anticipated lunchtime treat on the company's behalf, had spent some time going through her options and talking over the details with our catering manager, Jon. In the end, she decided to place a booking for our Gourmet BBQ menu, which promises a traditional selection of grilled barbecued meats, irresistible side dishes and a delicious meat-free choice that's suitable for both veggies and vegans, making it a perfect feast for all sorts of outdoor celebrations.
With no time to waste, Jon began making preparations for the luncheon right away, and soon after securing all the ingredients he would need for the day, which had been hand-chosen from local farms and markets, and counting out enough plates, bowls and cutlery for all 40 people, he and the rest of the Hog Roast Rotherham team found themselves making the short trip to Motorpoint's base.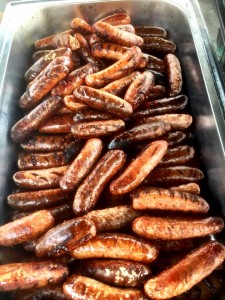 Having found out that Motorpoint had been awarded their 7th successive year as one of the top 100 companies to work for in the UK, everyone was in high spirits when Hog Roast Rotheram arrived in the late morning to start preparing the lunchtime meal. As usual, it didn't take long for Jon and the team to get everything set up, and before too long, the entire site was filled with the salivating scents of succulent grilled meats, refreshing salad and vinegar smothered mixed fries.
The staff were all but driven wild with the sumptuous aromas that swirled around the venue, but fortunately, they didn't have to wait long before Jon announced the completion of the meal!
Soon, everyone at Motorpoint was feasting on juicy links sausages, handmade 100% beef burgers, Thai kebabs and marinated spare ribs, which paired beautifully with the zesty 'slaw and Greek salad and fries. The vegan guests too had something to shout about with the slow-simmered, flavour-packed BBQ pulled jackfruit rolls with hickory sauce, which ensured everyone felt included.