It's always busy here doing a hog roast in Ampleforth and yesterday our team got to visit the charming village of Ampleforth in Rydedale District. We even caught a glimpse of the White Horse on the way there! We were on our way to deliver a hog roast machine for an engagement party in a house quite near the Ampleforth Abbey. Our second mission was to do the full service (hog roast in Ampleforth, machine, the roast itself, catering, sauce, decorations and serviettes) at a garden party.
We dropped the machine off first, after showing the customers how to operate it. As we left, they seemed to be having some difficulty securing their roast to the machine, so we went back and helped them, ensuring it was properly secured and turning evenly. One of our team, Rachel, suggested applesauce to go with it. Then it was on to our second job near the end of the village.
The place was strewn with lawn chairs when we arrived and set up the machine. The customers had told us to put the hog roast machine under the canopy at the end of the garden. Rachel and the others took care of the decorating while me and Heather lifted the prepared hog roast from the van and secured it to the spit. The garnishes meant that the meat was already smelling delicious before it even began to turn. Then we set out the serviettes and complimentary bread rolls and condiments. Heather and I helped with moving the family's tables outside.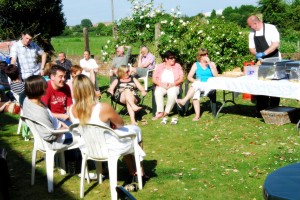 The guests began to arrive; there were about 400. I always enjoy the anticipation, the waiting before it's our turn in the spotlight as we carve the roast; making great-tasting food, making people happy – nothing compares to it. It honestly makes me proud to serve roasts that everyone enjoys, and today was no exception. The guests were chatting and laughing; a couple of them told me they'd never had a hog roast in Ampleforth before. And they all agreed it was delicious. Strangely enough, as much as I like preparing the roasts and roasting them, I enjoy seeing people eat them, too. It's like the end goal – the point of all the hard work. Fortunately the weather was on our side. It's not that often that we serve roasts al fresco.
All too soon the roast was all eaten up, the party was over and the guests slowly dribbled out of the gate. We cleared up, leaving the venue neat and tidy. The tables went back in the house and all the debris was cleared away. Our customers thanked us, saying their guests had seemed like they were impressed by the hog roast. Then it was off home – but not before popping into The Swan for a well-earned drink, of course!