Today we catered Joanna's 21st birthday party at her parents' home and despite the wet weather, we had a bonzer of a time! As the birthday girl is off to work Down Under for 12 months soon, her parents thought an Australia themed birthday party would be apt. Plus the fact that she will be working on a pig farm meant her parents wanted us to provide a delicious Hog Roast Tockwith!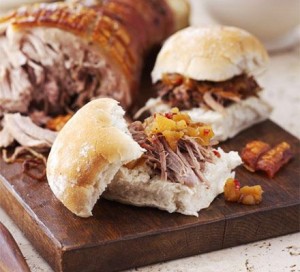 For the 40 guests of family and friends, Joanna's parents asked us to cook a Hog Roast Tockwith in their huge back garden. They wanted our hog roast rolls, which we named 'pigs in buns'; this is a very popular option of ours, where we roast a pig for several hours until it's crispy on the outside and tender on the inside and then we fill fresh bread rolls with meat and crackling slices and our homemade apple sauce and stuffing. We provide condiments and serviettes, too. For this party, the couple also ordered some salad leaves, coleslaw, and a few jacket potatoes for the veggie guests.
We arrived at the family home earlier today as the rain poured down. Thankfully, the garden was big enough for one of our marquees, so we set that up and got on with preparing the hog for its roasting. It takes about an hour to cook every 10kg in normal weather and this medium-sized hog would take around 5 hours of clear cooking once it had been prepped.
While the hog was cooking away beautifully, Joanna's parents decorated some of the inside of the marquee with Australia flags and birthday banners. They were due to decorate the garden instead but the bad weather meant a change of plan, so the marquee and inside the house were being decorated instead.
Once the Hog Roast Tockwith was resting and the baked potatoes were done, we set to work preparing the fresh salad dishes, slicing the bread rolls and arranging the serving table with various sauces and the stuffing. Joanna and her guests arrived to the gorgeous smells inside the marquee, which everyone commented on throughout the afternoon, and then it was time for the queues to start as we sliced into the meat.