I came across Hog Roast Rufforth a few months back when a work colleague recommended their food services to me. I was aware that my annual new year party was around the corner so I contacted them even though it was short notice. When I called, I was pleasantly surprised by the attentive staff that offered me a wonderful price with a flexible menu to feed my 100 guests when celebrating the new year.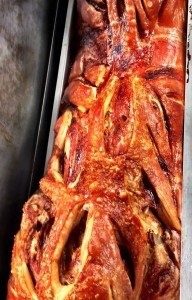 I chose the large Pig menu, this came with a selection of salads, crispy crackling, fresh bread rolls and even new potatoes served with butter. This menu stood out to me as Hog Roast Rufforth staff explained that there would be enough to feed all my friends and more. I was more than excited to try the buffet!
Personally, I had never had a pork roast before I contacted Hog Roast Rufforth therefore I was apprehensive about trying a new company. I felt no stress on the day of my party as the team arrived early to set up. An hour into their service and my party hall already smelt delicious. The array of colourful vegetables and large roasting pig looked delightful. I couldn't wait for my guests to see it.
As my guests filled the hall, I was overwhelmed with compliments on how stunning the food looked and how friendly the staff were. We just wanted to tuck in! An hour into partying, the team were ready to feed my hungry friends. We queued up and piled our plates with tender, delicious meat accompanied with warm, herb potatoes and the most delicate crispy crackling.
Soon enough, all 100 plates were empty and the hall was filled with laughter and happiness. You could almost feel the satisfaction from the food lighting the room. I couldn't thank Hog Roast Rufforth enough, they delivered perfect food with an inviting service, they even cleaned up all their equipment afterwards leaving me with no stress. I will be rebooking. Thanks team.