At Hog Roast Aldburgh, we love to share our love of the art of the hog or spit roast, whether that's by catering your event or special occasion, showing you how to use our equipment when you hire a hog roast machine from us, or even talking you through everything when you purchase one from our showroom or online. People often say that it's clear that we love what we do, and we hope it always shows through any of these ways that we provide a service.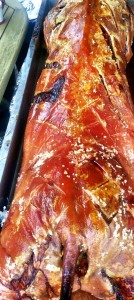 When it comes to renting out one of our own hog roasting machines, we always show our customers how to use them, even though they are renowned for being so easy to use anyway. We designed them to be that way, as we perfected our machines over time of trial and error until they were just right. You can even use one of our hog roasting machines as a spit roaster, as we have attachments for them, or to barbecue food instead. Despite the name, a hog roast machine of ours is suitable for so much more than just cooking pork, and they are so versatile that they can even be used like a conventional oven to cook vegetables and potatoes. You can use one to cook a whole meal in one go!
We're proud of those machines we produce today, which we hand-build in our factory in the north-west of England. Customers are welcome to visit with or without an appointment, and are welcome to watch one of our range being built from scratch, whether that's our best-selling Titan, Olympian, Platinum, Hogmaster or Hogmaster Pro.
One of our new customers, Clayton, recently came to see us at Hog Roast Aldburgh, with a machine purchase in mind, as he has his own catering business including providing hog and spit roasts. Despite using these kinds of machines many times before, he thought it would be a good idea to rent one of ours first before buying one, and we agreed.
When we collected the machine from Clayton on Monday, he'd spent the chilly weekend cooking up a storm for his business, and he loved the Titan he'd hired from us so much that he's ordered his own to be delivered as soon as possible.