Ah, the six-week school summer holidays have finally come to an end. This no doubt spells disappointment for pupils but a sigh of relief from parents! Well, as is often the case just before the kids go back to school, they have one more day off for teacher training. This is a chance for the teachers to catch up on the latest curriculum changes and to prepare for the year ahead of teaching our children. To motivate the teachers for the upcoming year the local Grassington primary school had booked in Hog Roast Grassington to come and prepare a delicious meal to welcome everyone back to school.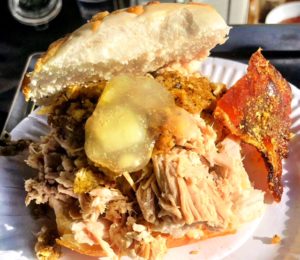 Our contact at the school was the secretary, Ruth, who had briefed us that we would be needing to provide catering in the school canteen for twenty-five members of staff who were attending the training day. This was of course no problem and our Hog Roast Grassington catering manager got to work planning a menu that would suit all dietary requirements and allergy needs.
The school had decided to go for our classic Hog Roast Grassington menu of a slow roasted pig with all the trimmings served up on freshly baked bread rolls. To make the perfect Hog Roast Grassington sandwich we add lots of homemade sage and onion stuffing, which is actually cooked alongside the meat for extra flavour. Next is the applesauce which we make ourselves from scratch that has the perfect balance of sweet and sour. Finally, no Hog Roast Grassington sandwich is complete without a good helping of crunchy, moreish crackling!
Once the lunch bell rang, we were ready and raring to go to serve up our food. The teachers formed an orderly queue and couldn't wait to get a taste of our Hog Roast Grassington. We hope everyone has a lovely first day back at school!