Hog Roast Skipton are friendly, flexible and professional caterers specialising in slow roasted foods, traveling to events across the UK. Our speciality, hog roasts, are often the talk of an event or party as they truly are spectacular to watch and the smells are just irresistible, and the taste incredible! It is no wonder that we are the UK's number one hog roast caterer and over the years we have built up a strong customer base and events portfolio. Hog Roast Skipton can provide catering for birthdays, weddings and even corporate events but really, in our expert opinion, there is no event that cannot be improved by the addition of one of our roasts!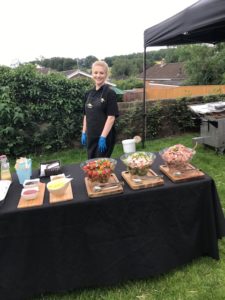 Hog Roast Skipton recently catered at an event locally at Follifoot Village Hall for a fiftieth birthday party. Our catering team had been asked to prepare food for eighty guests and given a serve time of 6pm to work towards. As a hog roast takes several hours to roast in order to produce the best, most succulent meat, we arrived at the venue mid-afternoon in order to give the meat the maximum amount of time to cook. Our client had asked for our menu three option which includes a Slow Roasted Pig Served with Apple Sauce, Stuffing and Crispy Crackling. This is served up in freshly baked bread rolls with a selection of sauces and salads and some warm new potatoes in a delicious herby butter. For the vegetarian option we also prepared some vegetable skewers and arranged everything to be served as a relaxed informal meal.
Our catering team for the day (including Kayla – pictured) were kept busy serving the guests and wishing our client a very happy fiftieth birthday. Form the lack of leftovers it's safe to say our hog roast was enjoyed by all and we can't wait to be able to cater from this lovely venue again in the future!