When you choose Hog Roast Wakefield as your event caterers you will be pleasantly surprised by the width and breadth of our abilities. Online we display our classic menus to give our clients a sample of all we can offer but these menus are merely the starting point for your dream Hog Roast Wakefield experience. Each menu provides you with different options for the meat you want roasting, the accompaniment of vegetables and salads that we create and you can always add your own twist by requesting certain dishes or mixing and matching our menus.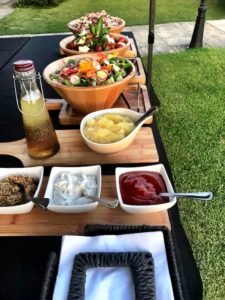 This week Hog Roast Wakefield were booked in to provide catering for an event being held at the Lofthouse Hill Gold Club in Wakefield. Our Hog Roast Wakefield catering manger Jon had been in frequent contact with the event organiser to plan a menu that would suit their seventy-five guests and, in the end, they had decided on our classic hog roast menu 3 option. This menu is the perfect way to enjoy your hog roast as a more relaxed informal meal and comes with a selection of fresh salads and/or vegetables. Our client had also opted for our delicious vegetarian option of grilled vegetable skewers which would mean all of the guests attending would be able to enjoy our food.
After arriving at the venue mid-afternoon, we got our hog roasting machine set up for a 9pm serve time. The event was being held in the grounds of the golf course giving us fantastic views of the green, it was truly a lovely location for a Hog Roast Wakefield. As the guests arrived everyone couldn't help but wander over to our gazebo to get a peek at the food. Luckily for them it wasn't long to go until the roast would be succulent and ready for carving and from then on we were working nonstop until there was nothing left and the food had been devoured- a sign of a tasty roast!