We're still offering our yummy winter warmer menu, and considering we've recently had some of the coldest days in a long time, we've had some relieved customers that we are. For Joanne's 55th birthday treat over the weekend, she had invited various friends, family members and work colleagues to her house for a surprise outdoors hog roast Boroughbridge, with the addition of seasonal vegetables and potatoes to help warm everyone up.
At the last party we catered for Joanne last summer, we provided our sumptuous pigs in buns, but for this chilly February lunch, she requested sweet potatoes, green beans, parsnips, and butternut squash to be roasted together, and for a heap of jacket potatoes to be cooked for any guests who didn't fancy the surprise meat, as well as some fresh salad leaves, cheese and coleslaw to go with the latter. For the pork-loving carnivores, our delicious homemade onion gravy would be poured all over the meat, veg and potatoes, with homemade stuffing and apple sauce completing the lovely meal.
The hog roast Boroughbridge itself we always source locally and we ensure it's quality meat that will taste amazing once it's been slowly roasted for several hours. On Saturday morning, we arrived bright and early to set up the equipment and start prepping the medium-sized hog for just that. Pretty soon, we had 40kg of pig filling the air with mouth-watering aromas as it sizzled away in its own juices.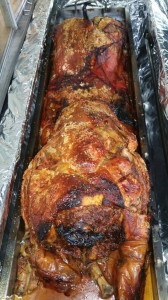 The cool weather meant all the guests had been told to wear multiple layers of clothing and to not eat beforehand, so it's likely they will have guessed they had been invited to an outdoor feast. Luckily there were no additional dietary requirements for Joanne to worry about at this party, but even if there had, hog roast Boroughbridge can save the day, as we have a huge variety of options suitable for all kinds of needs.
Once the guests started to arrive, all decked out in their winter coats and wearing gloves, scarves, and hats, one by one they easily realised what the surprise food was before they even saw the hog roast centrepiece, owing to those lovely smells in the back garden. However, that didn't stop anyone from enjoying it any less, and Joanne's birthday food was such a big success that the hog was stripped clean.