Weddings are undoubtedly special occasions, but when it comes to romance, is there anything more heart warming than celebrating 50 years of love with your partner? Earlier this month, we had the privilege of being part of an extraordinary celebration as one adoring Bradford couple, John and Cath, marked five glorious decades of marriage. As a milestone achieved by only around 7% of couples, this golden anniversary was a truly remarkable event.
To make this day even more exceptional, John decided to surprise Cath with an unforgettable celebration. He turned to Hog Roast Bradford, and we were thrilled to play a part in crafting the perfect anniversary experience. Our catering manager, (also named Jon!) took charge of the event, and we set out to create an eye-catching spread that would not only tantalise taste buds but also touch hearts.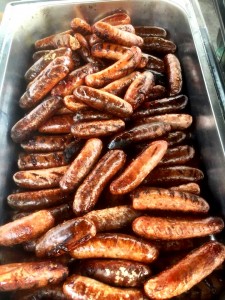 For the clients and their 43 guests, Hog Roast Bradford served a feast fit for the occasion. The meal included a choice of succulent meat dishes, with our very own gourmet sausages stealing the show. The grilled vegetable and halloumi kebabs added a delightful vegetarian option to the mix, ensuring that all preferences were catered to.
We all know that no feast is complete without the perfect sides, so we paired the dishes with mixed sweet potato and regular fries and fresh, vibrant salads, which added a delightful burst of colour and flavour.
To sweeten the celebration even further, we offered dessert options of a rich and indulgent chocolate torte and a refreshing lemon tart. These sweet treats were the perfect way to conclude the feast on a high note.
The atmosphere during the celebration was nothing short of magical. Laughter, stories, and the warm glow of love filled the air as John and Cath celebrated their journey together with their closest friends and family.
As the Hog Roast Bradford team packed up after the event, we couldn't help but smile. We had been witness to a remarkable celebration of love and commitment, and it had left a lasting impression on all of us. We sincerely wish John and Cath many more years of wedded bliss, filled with love, laughter, and some truly delicious meals!