Hog Roast Garforth are expert caterers ideal for any and all events whether you are planning a wedding, birthday, baby shower or christening. In addition to our success in catering private functions Hog Roast Garforth are also able to cater at corporate events and can scale any of our menus up or down depending on our client's needs. Those with dietary requirements are not forgotten about either as despite the name we are also able to provide fantastic, mouth-watering vegetarian options when requested.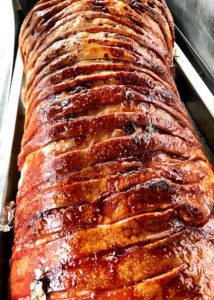 This week Hog Roast Garforth were providing corporate catering for ARP Geotechnical LTD who are a Civil, Structural, Building Services and Geotechnical Engineering Consultancy that established in 1993. The company is based in Leeds and Manchester and for this event we had been asked to cater at their Leeds campus for approximately thirty people.
Today's catering manager was Jon who had been set the task by client Andrew of proving our classic Menu 1. This menu involve a traditionally whole roasted hog served up with seasonal roasted vegetables and your choice of chips or new potatoes cooked in garlic butter. For the vegetarian option Andrew had requested our Vegetable skewers which always go down so well with both vegetarians and meat eaters alike. We were given a serve time of one 'o'clock so Jon was hard at work to get everything prepared in time.
When we cater at corporate events we like for the event to feel like a more relaxed affair. Too often corporate catering is dull and boring often just a simple cold buffet or sandwich selection and so when Hog Roast Garforth are asked to provide corporate catering we like to make a lasting impression which is easy thanks to our hearty, mouth-watering food.
Once Jon had finished cooking and our team had served up the Hog Roast Garforth we began to discretely tidy away leaving Andrew and his guests to enjoy their food.