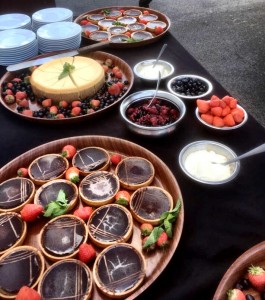 Our Hog Roast Wakefield chefs and team members are all experienced and highly trained so that you can enjoy a stress-free event or party, regardless of whether you book us to cater an informal birthday celebration for a handful of guests in your back garden or a posh function at a swanky location, with hundreds of guests and several courses. We can easily cater anything that you may have in mind, celebration or commemoration, small or large and in any kind of location, as our hog roast machines are gas-powered and highly portable. When it comes to corporate events, we've spent many years providing both local and national businesses with delicious food, and we did just that for NewCold recently.
NewCold is an integrated service provider for advanced cold logistics and we were asked by Julie to provide our Menu 4 hog roast at the premises on Newmarket Lane. This Hog Roast Wakefield menu is often cooked and served at formal buffets, either indoors or outdoors, though for indoor cooking we need to ensure plenty of space and ventilation. The food is served on real crockery, for a more formal feel, and as well as the hog roast centrepiece (or even an alternative meat), you get to choose three garden-fresh salad dishes or seasonal vegetables if preferred and your choice of potatoes, such as roasted, baked, wedges, or new potatoes. Julie asked us for a Caesar salad, a mixed salad and our homemade coleslaw to be served, as well as roasted potatoes. We were also asked to cook additional sausages, provide a selection of our homemade desserts and a drinks service as well.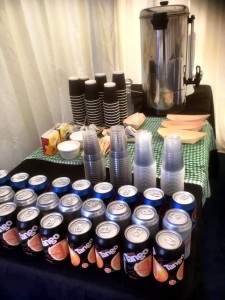 On the day of the corporate function, Hog Roast Wakefield Chef Andy and his team arrived on site at 8am and got cracking with preparing the hog for its roasting. It takes a few hours to sizzle away to perfection and meanwhile, we served tea, coffee, and chilled soft drinks at 10.30am. By 12pm, we had chopped and sliced and carved away and we were ready to serve plenty of yummy mains and sides, and these were followed by our amazing cheesecake and chocolate torte desserts served with fruit, but the highlight of the day was certainly our scrumptious hog.