Hog Roast Huddersfield has spent a long time catering all kinds of parties and events both locally and further afield. From retirements to corporate functions, anniversaries to engagements and weddings to school fetes, we've seen it all and cooked up a storm each and every time, providing scrumptious dishes for many happy customers and their guests. When it comes to birthdays, we've catered so many that we've lost count, but it's clear that for this kind of special occasion, our customers want gorgeous food served by a dedicated team who will go the extra mile to ensure that the event goes with a bang.
For a 40th birthday in Huddersfield recently, which had a fancy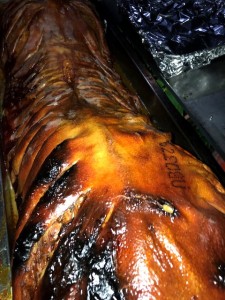 dress theme, Hog Roast Huddersfield was asked to cook our Menu 1 of pigs in buns, which is one of our most popular options when it comes to serving a traditional centrepiece hog roast. While we can cook so much more than hog and spit roasts, and we often do, hog roasts are our speciality after all (as you can see in our name!) and we have perfected them over many years. With our pigs in buns (which you may know as hog roast rolls), we can source the pig for you from our trusted local suppliers but sometimes you may have one in mind already. For this birthday celebration at Joanne's home, we would be slow-roasting a rare breed Gloucester Old Spot pig from Taste Tradition in Ripon.
Ripon-based Taste Tradition are specialists in high-quality rare and native breed meat, connecting farmers and master butchers in a unique partnership. The 70 guests would enjoy particular tasty pigs in buns with this rare breed, once we'd cooked it to absolute perfection. Additionally, we would be serving our yummy veggie skewers for the vegetarian guests.
On the day of the party, our Hog Roast Huddersfield team arrived in the afternoon and got busy setting up our equipment. Once the pig was sizzling away, we kept our eye on it, to see that it cooked through and through, inside and out, and before we knew it, it was nearly 8.30pm and time to carve away, to feed the hungry guests.