When you think of the wedding day of your dreams, you often aren't hoping for rain. However, we know that British weather is unpredictable at the best of times and sometimes the rain is inevitable. Having a rainy wedding day is definitely not the end of the world and there are so many ways to make sure your day is still incredible. Hog Roast Airton have catered for many weddings with unexpected weather, including Simon and Lydia's big day.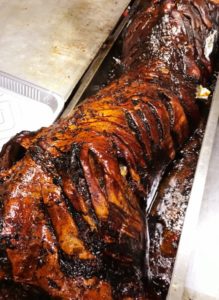 When we arrived at the wedding reception for Simon and Lydia, the weather was beautiful and sunny- although black clouds were on the horizon! Luckily our catering set-up was inside, as the venue had plenty of additional space. We arrived well in advance to prepare our delicious Hog Roast Airton menu, since the couple had opted for a slow-roasted pig with traditional trimmings, including stuffing, applesauce, and roasted potatoes. As a result, we needed plenty of time to roast the meat before the scheduled mealtime.
When the guests arrived at the reception, they were shown to their tables and given a time to arrive at our buffet station. This cut down on long queuing times as there was a large number of guests in attendance. After the guests had enjoyed their main meal, our waiting team served the couples wedding cake- along with a drinks service.
While the plan for the day was group photographs outside of the beautiful venue, unfortunately, the unexpected rain made this difficult! Instead, the couple opted for photographs on the dance floor, with some outdoor shots taken under the canopy of trees. This was followed by an evening of music and dancing- making it a night to remember for all in attendance.
Choosing a caterer for your wedding day is a big decision, so Hog Roast Airton are on hand to answer any questions you may have. To book your catering today, simply let us know your party size, location and date and we can add you to our calendar. We hope to hear from you soon!