Nothing brings a group of people together quite like a hog roast can, and with engineering giant Babcock International's annual teambuilding day fast approaching, the companies first port of call was to pick up the phone and get in touch with our team here at Hog Roast Ripley. Following a quick discussion with Jon, our catering manager, Babcock representative, Kevin was able to find the ideal menu for the occasion in hardly any time at all, and with the stress of finding a caterer no longer on his shoulders, he couldn't wait to see what our team brought to the table – literally!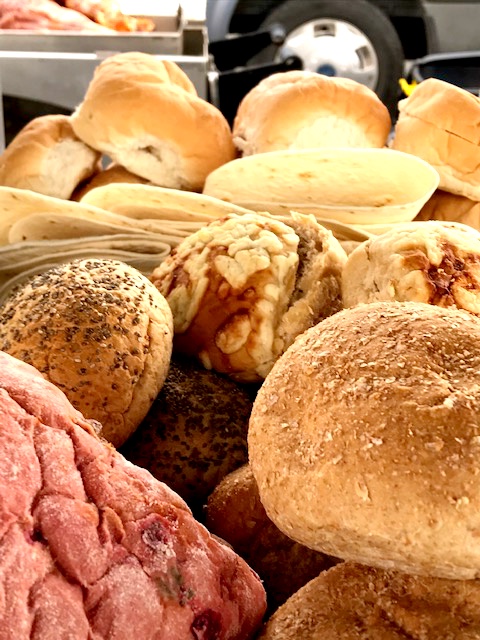 Getting ready to serve our classic hog roast feast (with a few extras for the non-meat-eating guests), to a group of 50 people, the Hog Roast Ripley catering crew, led by Jon made their way to Babcock International's Harrogate site last week. Upon reaching their destination, the team unloaded the van and began to set up our equipment in the company car park.
With the low-hanging clouds and near-constant drizzle threatening to spoil the event, Jon and the team were ever-grateful to the catering gazebo which promised to shield them (and the food!) in the event of a downpour. But as fortune would have it, the weather soon picked up, and by lunchtime, the rain had retreated into the clouds, and even the sun made an appearance – albeit a brief one!
By 1 pm, which had been the mutually agreed serving time, Hog Roast Ripley had finished cooking the lunchtime spread which consisted of grilled vegetable and halloumi skewers with tzatziki dip and flatbreads, BBQ pulled jackfruit, and of course, the pièce de résistance: a full-size pig that had been evenly scored and rubbed down with salt which helps create the perfect crispy crackling we are famed for.
With the aromatic scents filling the air, the guests soon began to pour into the car park where they quickly queued up to get their fill of the mouth-watering feast. The wait had most definitely been worth it, and after a busy morning of team building exercised, the Babcock International employees were happy to relax with a pork-stuffed roll.