Theresa enjoyed a beautiful wedding with her Fiance when they married at Bolton Abbey Village Hall this autumn. However, one element they were worried about were finding a catering option that would suit all of their guests. Some of the couple's guests required a vegetarian alternative so to ensure that everything ran smoothly with the wedding they needed to find something that everyone could enjoy. The couple settled on Hog Roast Skipton to cook a fantastic buffet for their one hundred wedding guests to enjoy. After looking through the variety the Hog Roast team offered, they settled on the Southern Slow Roast to please their guests. The Hog Roast team offered vegetarian options which Theresa said went down really well.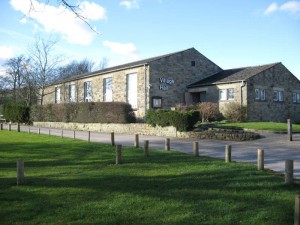 The Hog Roast Skipton team were led by their chef Jon and delivered a fantastic, smooth service. The team were perfect for the event as they provided a chatty and friendly service to keep the mood of the wedding upbeat. The cooking of the roast provided great entertainment for the guests and the scents of the roasting spices helped to build a warm atmosphere despite the cool day. The Hog Roast Skipton team served the Southern Slow Roast up to the guests who thoroughly enjoyed the food. Theresa said that she received wonderful feedback on the food and that her guests were really expressed by the Hog Roast.
In addition, the bride thanked the Hog Roast Skipton team for their professional manner when helping her to organise her wedding. The team contacted Theresa before the wedding to ensure that all the food options on the menu were correct and that they had addressed any intolerances or allergies that the guests had to ensure that the couple's big day did not hit any speed bumps. The couple were also pleased by the quality of the meat and how the food turned out to be really fresh with all the meat selections perfectly tender. Theresa assured the Hog Roast team that she would recommend them to her friends and family as they provided perfect service and food and were really easy to deal with.