It isn't just professional caterers who get in touch with us about hiring one of our hog roast machines. We get enquiries from all different sorts of people who are looking for an alternative catering option that is going to impress people without being too labour-intensive, as well as from people who are looking for a versatile piece of equipment that can be used in less traditional venues. It was for all of these reasons that Jenny, the leader of a local canoe club got in touch with the Hog Roast Beverley team to discuss hiring one of our machines for her club's annual social event. After having lots of trouble in previous years with trying to cater at their club house with its limited cooking facilities, she decided this year it was time to think outside the box.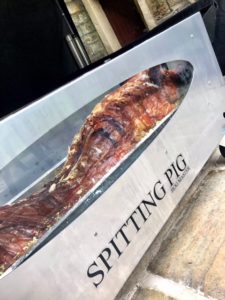 After discussing her requirements, we suggested one of our Hogmaster machines would be the ideal piece of cooking equipment for her to hire and she agreed. She was relieved to learn that it even helps amateurs to achieve perfectly cooked pork every time and it can be left to do its thing without needing constant attention, plus it can be easily used in any sort of venue.
When the Hogmaster was delivered by Hog Roast Beverley's helpful team, they gave Jenny and her crew a few pointers and she felt super confident that the Hogmaster was going to help her create an awesome feast for the members of her club! As well as cooking the meat to perfection as she had hoped, she was also really pleased with its additional features. Jenny told us that the glass viewing panel at the front of the machine added a bit of theatre to the proceedings and she got a lot of 'ooohs' and 'ahhhs' from her guests as they watched the meat cooking. She also found the way that the lid transforms into a serving table was incredibly clever, and it meant that there was one less thing she had to worry about transporting to the club house.
Jenny was delighted with her decision to hire the Hogmaster and here at Hog Roast Beverley,  we're glad she had such a positive experience!