Working for Hog Roast Keighley no day is ever the same! We are constantly catering for different types of events up and down the country and each time is a great opportunity to network and to showcase our talents in hog roasting. Most of our business comes through word of mouth which is truly testament to the fact that our clients love what we do and luckily, we adore being able to put smiles on people's faces with our slow roasted food!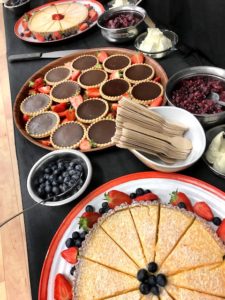 One event we catered at recently was booked by Natalie to come and provide some of our Hog Roast Keighley food at an event held at the Brackenfield School in Harrogate. With approximately eighty guests to provide for our catering manager Jon would have his hands full but would of course be backed up by our brilliant Hog Roast Keighley catering team.
For this event we had been asked to create our classic menu three option. This menu encompasses our slow roasted hog served with a selection of fresh salads or vegetables which is a great way to have our Hog Roast Keighley as a more informal meal for any number of guests. Once the hog has been left to slowly roast in our Hog Roast Keighley machine for several hours, your chef will carefully and skilfully slice the meat into succulent pieces that can be placed into bread rolls. To make the perfect Hog Roast Keighley roll add a dollop of our tangy and sweet applesauce, spoonful of sage and onion stuffing and top with some crispy crackling for the pièce de résistance!
At this event the vegetarians certainly were not forgotten as our chef created some deliciously moreish grilled vegetable skewers. We also brought some specially made gluten free bread rolls meaning everyone could enjoy the meal! Finally, dinner ended with some of our homemade desserts which unsurprisingly everyone managed to save some room for!