Friday afternoon marked the beginning of another busy weekend for Hog Roast Cowling after our catering crew were invited along to serve our recently launched, loaded fries at a high school theatre production. With over 500 people to cater for PTA events organiser, Emma was keen for us to serve something simple that everyone could enjoy and after hearing all about the newest creation from our lively catering manager, she knew she had found the ideal menu that was sure to have the ticket holders drooling.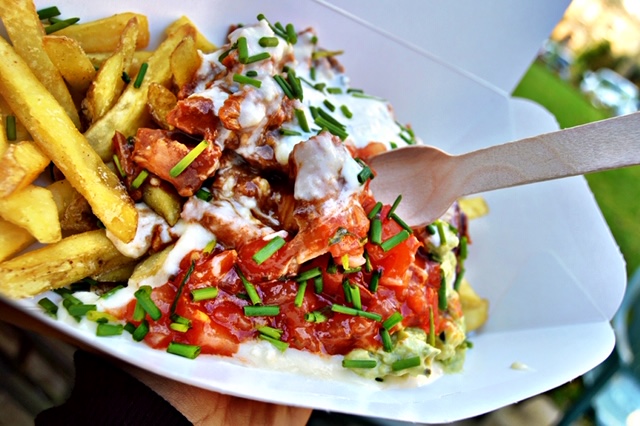 Striving to make everyone feel included at this event, Hog Roast Cowling incorporated a variety of toppings to suit spice lovers, meat fanatics, coleslaw enthusiasts and even those with strict dietary requirements, which saved Emma from having to find alternative dishes for vegetarian and vegan viewers at the last minute. Not only was Emma impressed with the limitless flavour combinations that our loaded fries offer, but she was also very pleased that our catering crew was there to offer a helping hand through every step of the booking process, which removed the usual stress associated with organising an event from her shoulders.
Before the hall was filled with people, Hog Roast Cowling arrived at the school to set up the catering equipment and with plenty of space outside the performance area, they quickly began preparing the fries and accompanying meats. Using our state of the art cooking equipment, the team worked tirelessly to create homemade coleslaws, an array of delicious sauces, 24-hour BBQ beef brisket and our signature slow roasted pulled pork which they smothered over the freshly cooked french fries and topped with melted cheese and roughly chopped jalapenos for an extra kick. The scents from the buffet table immediately caught the attention of the ticket holders, and before entering the hall, they made sure to collect a generous portion of fries which they devoured enthusiastically.
Having devoted countless hours to learning their scripts, dancing till their feet ached and perfecting their costumes, the cast were ecstatic with how well-received their performance was, but after spending hours on stage under the glare of bright lights, they had worked up a fierce appetite! Fortunately, Hog Roast Cowling had prepared more than enough food and after coming off stage for the final time, the cast gladly indulged in the finger-licking feast.