In addition to Hog Roast Leeds catering for various private events and functions many people are pleasantly surprised to learn that we also run a successful corporate catering business too. We are so passionate about providing the highest quality slow roasted food to our clients that this naturally fit with the world of corporate catering, where first impressions matter the most.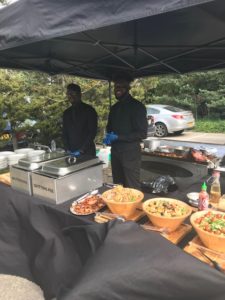 For this week's corporate event Hog Roast Leeds were travelling to a summer BBQ being hosted by Communisis UK. The event was being held at Communisis UK's headquarters for one hundred of their guests. We had been briefed to serve the food around 2pm and had been asked to provide both vegan and vegetarian options along with a gluten free option. This was no problem for Hog Roast Leeds catering manager Jon who was in charge of the planning and execution of this event.
When we arrived on site as always, the first job is to get the meat onto roast. In this case we were roasting a whole hog and so needed to give it the maximum amount of time to cook and become beautifully tender and succulent. Just prior to putting it in our hog roasting machine we carefully scored the skin and applied both salt and water to allow the skin to beautifully crisp up into that mouth-watering crackling for which we are known. From then on it was simply a case of checking the temperature of the meat every couple of hours whilst we prepared the remaining components of the meal.
Served alongside the Hog Roast Leeds would be our chefs speciality salads which include a mixed salad, pasta salad and client favourite tomato and mozzarella salad. In terms of the meat free alternatives we had our grilled vegetable and halloumi skewers which were easily made vegan by swapping out the cheese for extra veggies. To finish up the corporate meal of dreams we had some jacket potato wedges and lots of homemade crunchy coleslaw. With everything ready all we had to do was serve the food up on to china crockery and watch the guests enjoy the food.