Here at Hog Roast York we do much more than just our signature hog roasts. We can in fact cook any meat you would like in our purpose built roasting machines and can also prepare BBQs, spit roasts and have plenty of vegetarian alternatives. Our menus simply provide a starting point to showcase all that we can do but please feel free to add or amend the menus as you see fit- after all we want you to have the best Hog Roast York experience possible!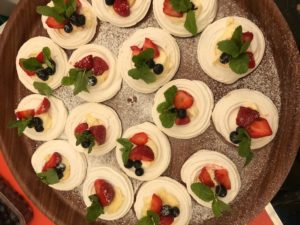 Hog Roast York catering manager Jon had a busy day ahead when travelling to an event at a clients private home in York. Our client Liz had been in-touch to organise a joint celebration of a family wedding along with celebrating the birth of a new member to their family. As this was set to be a lovely family event she had asked us to provide our Hog Roast York for around seventy guests and wanted a complete menu starting with hand crafted canapés and ending in us serving us dessert.
Jon was quick to design a menu for the event and worked with Liz's choices to create a bespoke menu. For the canapés we had our handmade gourmet sausages, mini quiche , fillet of beef ad some smoked Scottish salmon. The main course was set to be a feast in itself with a whole roasted pig and a turkey cooked to perfection- they aren't just for Christmas after all! To accompany the meats we had our tomato and mozzarella salad, seasonal mixed salad and some homemade gourmet coleslaw. Finally, the piest de resistance was our selection of desserts which included Vacherins of Strawberries and Passion Fruit Cream and a home baked cheesecake.
With the menu set to go all we had to do now was execute the perfect service and leave guests to enjoy themselves…