When you choose Hog Roast Milnsbridge to provide the food for your party or event, you're choosing professional, friendly, reliable staff who go the extra mile while cooking fresh, tasty, high-quality food for you and your guests. We really care about the ingredients that we use, whether that's the meat itself, which we source locally from trusted suppliers that we have known for a long time, or even down to the condiments that we supply. Most of our food is homemade by ourselves and everything that goes into making our food is carefully planned to ensure freshness and quality.
You'll see from our extensive list of menus that we offer a lot of variety, as we know that's key to providing the food for every kind of special occasion or function, to suit many different tastes. However, we also encourage our customers to devise their own bespoke menu or mix and match options to create the perfect menu for their wants or needs. When Matt called us at Hog Roast Milnsbridge to book us for an event for 100 people at Milnsbridge Village Hall in Huddersfield, he knew he wanted our popular Private Party Menu 3, but with the addition of veggie skewers for those guests who preferred not to eat the meat.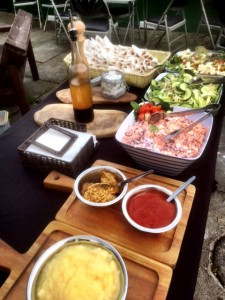 Menu 3 includes a lovely, slow-roasted pig that we cook on-site for hours, then serve hot and fresh with our homemade duo of apple sauce and sage and onion stuffing, as well as various bread rolls and a selection of sauces. Customers love to make pigs in buns and this menu is ideal for that but it also includes extra food. With warmed new potatoes in a tasty herb butter and a choice of salads as well as the meat and buns, your guests will certainly not go hungry with this menu!
Hog Roast Milnsbridge arrived at the village hall hours before service, to prepare the hog and cook it slowly until perfectly browned, with tender and juicy meat inside. Once the meat had rested and we had freshly prepared the rest of the lovely food, it was time to feed the hordes. All of the food went down so well, and the hog itself was stripped clean.