When Spitting Pig Yorkshire caters private parties, we do it in style and in this instance, for a surprise milestone birthday celebration in Keighley's Oxenhope, we did it southern style! While we are renowned for our hog and spit roasts, sometimes our customers want something a little bit different. We have so many menus to browse through and we always encourage our customers to mix and match to create their own perfect menu, but sometimes one of our menus is already perfect for your culinary needs…
Our Private Party Menu Option 2 is also known as the Southern Slow Roast Menu and it features various animals marinated in our secret recipe rubs and then roasted low and slow at your venue for hours to create incredibly tender and tasty meat. For your special occasion, you can choose three from the options of barbecued pork butt, Texan 24-hour beef brisket, Cajun spice whole roasted chickens, Louisiana sticky pork ribs and Creole pulled spiced lamb. We serve the meat with three special sauces – a smoky and sweet Jack Daniels barbecue glaze, Stubb's Hickory Bourbon Legendary BAR-B-Q sauce and, if you're brave enough, a very spicy Cajun hot pepper sauce! We always bring along the usual condiments too, like ketchup, in case that's more your thing to smother our delicious food in.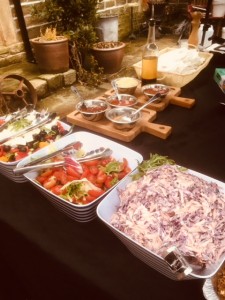 With this menu, you also get to choose four accompanying dishes, such as Memphis-style crunchy coleslaw, a Greek feta cheese salad, corn cobettes with melted butter, classic mac and cheese, Cajun sweet potato wedges, a green leaf salad with cherry tomatoes, and Southern-style baked potatoes. We also offer a homemade vegetarian option of grilled vegetable skewers or halloumi wraps. There's just so much choice in this amazing menu that it can be difficult to choose your favourites for your event or party!
For the surprise 60th party, our Hog Roast Oxenhope chef Jon cooked a selection of meats and some tasty sweet potato wedges, a veggie option of vegetable skewers and he also put together some lovely, fresh salad dishes. There were around 50 to 60 guests who all queued up for Hog Roast Oxenhope to satisfy their hunger, and that we certainly did.