Our latest event for hog roast Oakworth was for a lovely young woman called Sophie. The event got off to a cracking start with loud live music and plenty of beer flowing for the adults. It was late August, the sun was at its max, guests were even putting a layer of sun cream on but this wasn't something we were complaining about.
Sophie had hired out a big bouncy castle and slide for the younger ones to play on. The sun set and there was a 10 minute firework show for them and even the adults loved it! The event was only a 10 m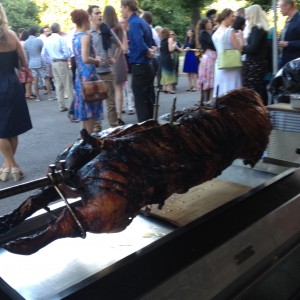 inute drive from where hog roast Oakworth are based which is very handy for us. The serve time came and everybody absolutely loved the pork, we cooked a menu 1 which consists of a slowly roasted free range pig (in this case 2 pigs), freshly made apple sauce and home made sage and onion stuffing served straight onto the bread roll. With a group of about 300 there was more than enough for people to come up for seconds, and that's exactly what every single person did.
The smell from the hog roast filled the small village and within minutes, we had people leaving their houses and coming over to see what all the fuss was about, unfortunately for them this wasn't their event! but we did manage to book an event in on the back of this! it turned out a great success and Sophie was so pleased. Hog roast Oakworth would be delighted to cater for her again.