The team at Hog Roast Otley are no strangers to the Weetwood Hall Estate venue, as they regularly cater events at the stunning location. The catering was booked by the Weetwood Hall Estate wedding co-ordinater Chloe, who worked closely with her clients and the Hog Roast Otley team to concoct a menu that would delight the newlyweds and their 100 guests.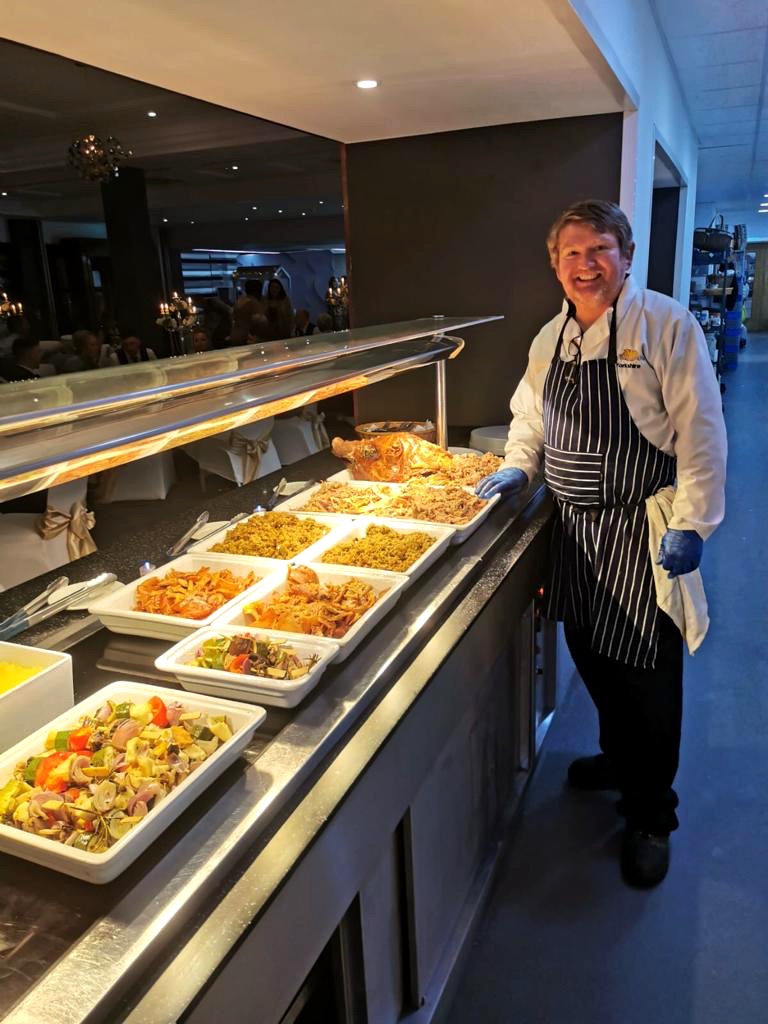 An advantage to planning this event was the fact that the catering team knew the venue so well, they had built a solid professional relationship with the staff at Weetwood Hall Estate. When the day of the event dawned and the weather outside was too blustery for the catering gazebo to be erected there was no panic, the two teams (Weetwood staff and Catering Manager Jon and Chef Luke from Hog Roast Otley) did not panic, a space inside the venue was found and everything went ahead according to plan.
The menu plan was based around a Classic Hog Roast, complete with all the trimmings. The dish choices included a vegan alternative for those who desired a meal completely free from all products pertaining to animals. This special vegan dish was: succulent grilled vegetable skewers, with a choice of tasty dips. These were served alongside gluten free bread rolls, which could be enjoyed by all.
As the event had a flexible evening serving time Catering Manager Jon and Chef Luke from Hog Roast Otley arrived at Weetwood Estate Hall around midday, this was so that they could set up their equipment and make everything fresh on site on the day. Also, as part of the catering package the team of two would take away all the rubbish the guests generated, and this was done with the utmost discretion, so as not to intrude on the happy event.
Despite the last minute change of plan to cater inside rather than outside, the team kept calm and delivered a first class service. The guests and clients were delighted with how tasty and enjoyable the food was, leaving Jon and Luke absolutely delighted and looking forwards to the next time they would be working at Weetwood Estate Hall.