This Sunday we found ourselves at Hog Roast Ripon providing catering for a garden party with about 100 guests, in honour of a decades long career spent in engineering, by our client Terry. He's taken early retirement at the age of 62, and though he claimed to be quite happy to be in a position to relax and enjoy his less technically minded pastimes of fishing and hill walking, I have to say he did seem more than a little bit interested in the fine details of our purpose built spit roasting devices, which we were confidently informed, are quite the well designed and manufactured pieces of kit. It's always good to have a professional opinion, though it came as no surprise to us, as we use these machines almost every day and can attest to their robustness and how well they are undeniably 'fit for purpose'.
And this weekend's shenanigans were to prove this once more, as the slow roasted hogs turned on their spits, allowing the heat to permeate right through to produce the most succulent, delicious slices of roast pork that a taste bud might ever be lucky enough to encounter. Terry had also asked if we could include a few roast chickens as he knew some of his guests weren't keen on pork, and as is often the case, it turned out that those who were keen on pork were also keen on roast chicken. Another one of those advantages of our combination of expertise in spit-roasting and our excellent machines mentioned above and appraised with the now retired, professional eye of our client.
As usual, the menu also included the apple sauce and stuffing that along with our freshly baked rolls and wraps, makes for our signature standard of highest quality hog rolls. Despite a few blustery spells, the guests were more than happy to form a line in front of our gazebo, with more than a couple of them coming back for seconds, and who can blame them?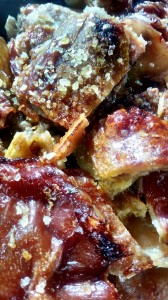 It's a testament to Terry's years plying his trade that along with members of his family, there were also many guests who had been not only work colleagues, but long standing customers of his company, who had returned to seek his services year in, year out. That's something we at Hog Roast Ripon can appreciate, as it's the kind of satisfaction from knowing you've done a good job that drives us to feel so rewarded when our customers return to us time after time. But as Terry mentioned when I pointed out this out to him, he's unlikely to be retiring again, so if he calls us again, it'll be mostly for the hog rolls, not for the joy of leaving the daily grind behind in favour of spending more time in the great outdoors.