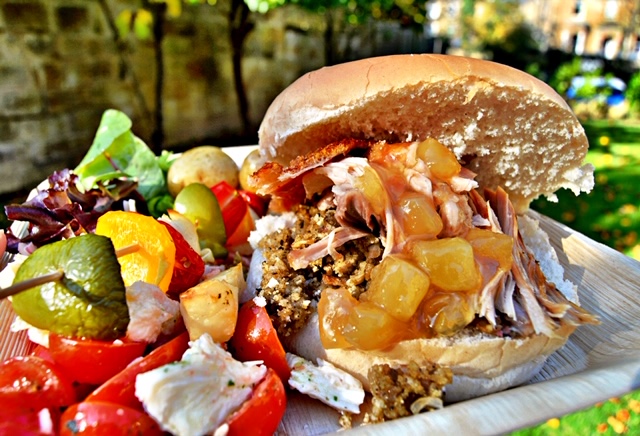 Come summertime, there's always one event we Oxenhope residents can rely on to lift our spirits. Yes, we are, of course, talking about the annual Oxenhope Straw Race, which always takes place on the first Sunday in July!
This highly anticipated event has been bringing joy to our sleepy parish since the 1970s, and it's all thanks to a humble bet made by two farmers over a pint.
Looking for some fun, the pair made a wager about racing between local pubs and downing a pint as quickly as possible; soon hay bales were added to the mix. Now dressing up in costumes and carting hay bales around a 2.5-mile route while dipping into select pubs for a cold one has become a town tradition – one which has, so far, raised £450,000+ for some brilliant charities.
For Jane, one of the highlights of this event is the delicious spread she usually prepares for her loved ones. However, this year, she decided to take a break and entrusted the responsibility of cooking for her 50 guests to Hog Roast Oxenhope.
Our renowned classic hog roast menu was the perfect fit for the occasion, and the Hog Roast Oxenhope crew spent all morning crafting the delightful feast ahead of the client's luncheon.
The centrepiece was a whole hog, slow-roasted to perfection; its tender meat infused with smoky flavours. To accompany the succulent pulled pork and crackling, Hog Roast Oxenhope prepared homemade sage and onion stuffing, applesauce and a selection of sides, including herb-infused new potatoes, gourmet sausages and gluten-free rolls and wraps.
As the guests gathered around the buffet, the Hog Roast Oxenhope team showcased their culinary expertise, carving and serving the succulent roast with precision and care. The guests were treated to generous portions, ensuring that no one was left hungry. The combination of the fork-tender meat, crispy potatoes, and flavorful sides created a truly unforgettable dining experience. The veggie and vegan guests weren't forgotten about either. Our crew whipped up some tantalising grilled vegetable and halloumi skewers, which went down a storm.
Jane, who had entrusted the catering to Hog Roast Oxenhope, was delighted with the outcome. She could relax and enjoy the event, knowing that her friends and family were being well taken care of by the professional team. The success of the feast was evident in the smiles and satisfied expressions on the faces of the guests.
Hog Roast Oxenhope's final act was to serve the pudding. Individual chocolate tortes and lemon tarts were presented with fresh cream and berries, which proved the perfect finale for a wonderful afternoon.